Original Radio Show ID:
WSA171030

Mp3 Player



Announcements (See Links below)
This is our 5th Anniversary of Women's Spaces Radio Show returning to Radio KBBF
Featured Guests
1. Phyllis Meshulam, Poet, Teacher and Author of Land of My Father's War
2. Rev. Mary Murray Shelton, Spealer. Religious Science Minister
----

1 Phyllis Meshulam talks about her journey into poetry, beginning with parental influences. She shares a reading from the her new book Land of My Father's War based on her father's letters during World War II from Italy. Phyllis announces a Poetry Reading called Rising from the Ashes, where you can meet her, on the Wildfire Disaster on Sunday, Nov. 12 at the Sebastopol Center for the Arts at 1pm.
About our Guest: Phyllis Meshulam, poet, teacher, coordinator for California Poets in the Schools and the nation-wide youth recitation series Poetry Out Loud, is the author of Doll, Moon (Finishing Line Press) and Valley of Moon (d-press). Her work also appears in literary magazines and the award-winning anthology Veterans of War, Veterans of Peace. A graduate of Pomona College with an MFA from Vermont College of Fine Arts, Meshulam was the editor for Poetry Crossing, 50+ Lessons for 50 Years of California Poets in the Schools.
Guest Link: https://www.phyllismpoet.com/
Guest Event: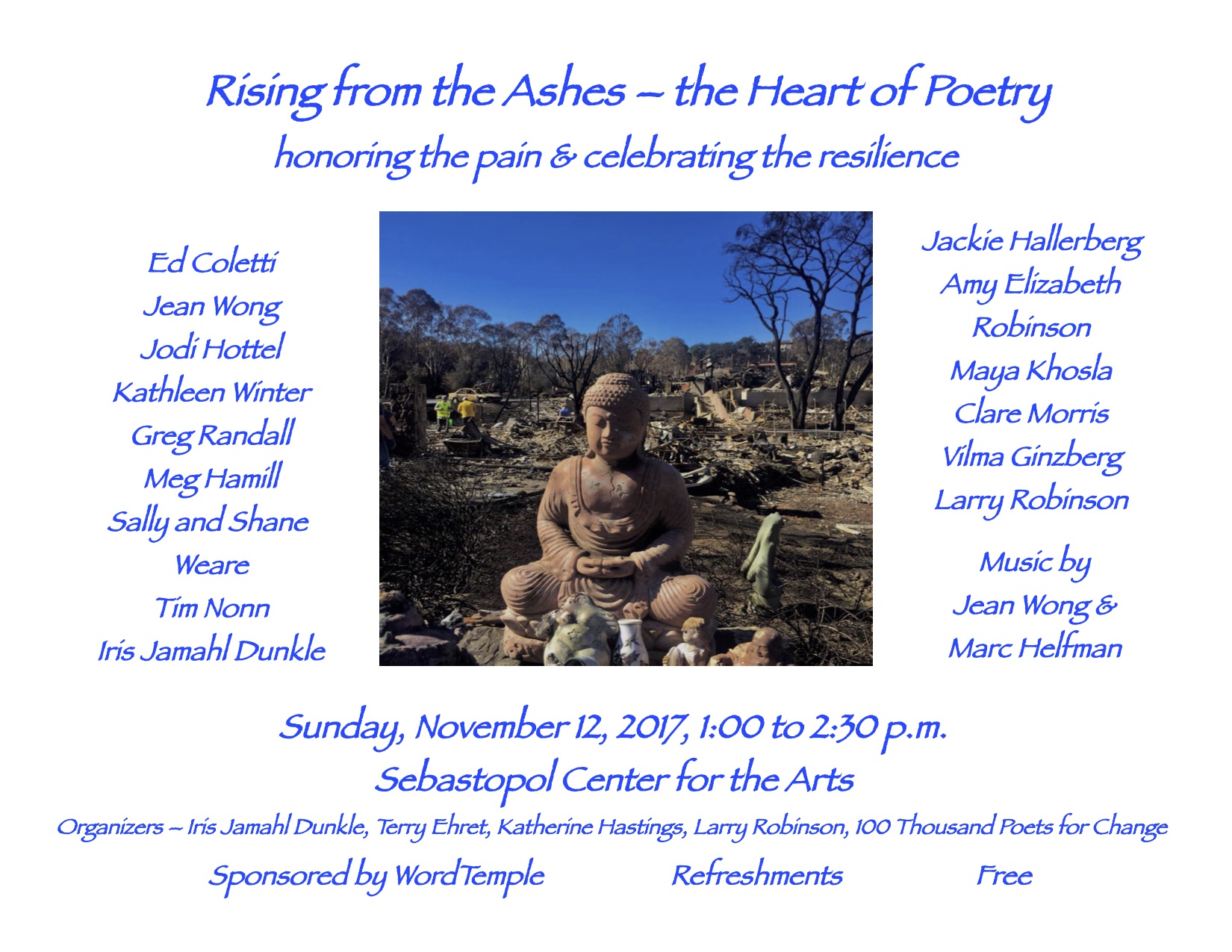 ----
2. Rev. Mary Murray Shelton shares her experience with the Santa Rosa Wildfire Disaster and gives us hints on coping spiritually and emotionally with the post disaster trauma. Rev. Mary announces her new weekly gatherings for inner recovery called After the Fire on Monday evenings 6-8 pm at the Share Exchange Conference Room at 535 5th St in Santa Rosa. The meetings will be for the purpose of mutual support, comfort, telling our stories with respectful witnessing of others in our group, exploration and exercises for grief, safety, releasing, regaining balance and peace of mind.
About our Guest: Rev. Mary Murray Shelton
is a speaker, minister, performer, retreat facilitator, author, ceremonialist, mother and grandmother. Rev. Mary officiated at the wedding of Elaine's daughter Susan to David Jensen 30 years ago.
Guest Links: www.revmary.com
Event Link: After the Fire - Inner Recovery meetups on Monday evenings with Rev. Mary https://www.meetup.com/preview/After-the-Fire/events/244471060
----
Announcement Links - none this week
--
Music Selections:
The Opening and Closing Theme song is with permission of the Composer and Singer Alix Dobkin: The Woman in Your Life is You by Alix Dobkin from the album Living with Lavender Jane (Women's Wax Works) - www.alixdobkin.com
Sending You Light by Betsey Rose and the Womensong Chorus from the Album: Welcome to the Circle (Paper Crane Music)
I Believe sung by LeAnn Rimes
from the Album: You Light Up My Life (Curb Records)